APRIL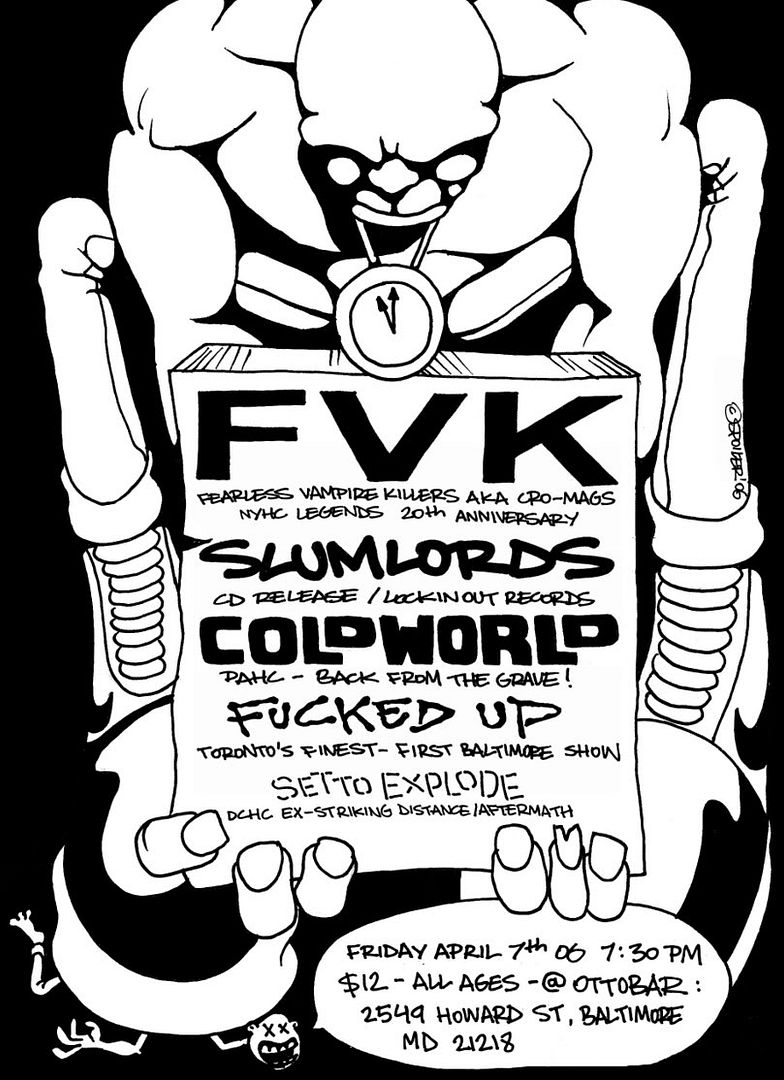 We're heading down the east coast again in April for a few shows in Baltimore, Harrisonburg and Richmond. Check back for more details.
Friday April 7th
Baltimore MD 7:30pm
$12 All Ages @
The Ottobar
2547 Howard St 21218
FEARLESS
VAMPIRE
KILLERS
SLUMLORDS
(CD RELEASE)
COLD WORLD
FUCKED UP
SET TO EXPLODE
This show will sell out, so make sure to buy advance tickets
here
.
Saturday April 8th
Macrock
Festival.
We are playing the "Hardcore Showcase" on saturday afternoon, not sure when we play. Here is the lineup:
Blacklisted
Down to Nothing
Cold World
Lions of Judah
Fucked Up
Direct Control
The Spark
Government Warning
The Frontline
Fight Amputation
Cloak Dagger
Get directions from the Macrock website.
Sunday April 9th 5 pm all ages, 7$
Richmond VA @ Nanci Raygun, 929 W. Grace st. Richmond, VA
Fucked Up
Gorilla Angreb
Government Warning
Wasted Time
Cloak Dagger
The Spark
As always, we are working for after-party shows all weekend. Stay tuned and hidden world
.
We will be in the UK April 13th-23rd to support the first single from the Hidden World Album. The single will be released on
Vice Records UK
and will be followed by a similar single in North America, and a cd in Japan.
We will probably play a record release for the LP in Toronto in June over 2 or 3 nights, and then won't play again until we tour the West Coast from July 23rd to August 9th, or something like that.